Description
Kyoritsu 3125A Digital High Voltage 5kV Insulation Tester
The Kyoritsu 3125A is a digital high voltage insulation tester capable of testing insulation resistance up to 5kV.
Simple to operate, the 3125A insulation tester features a large digital backlit display and also has the functionality to test both the polarization index  (PI) and dielectric absorption ratio (DAR)
The Kyoritsu 3125A permits a wide range of insulation testing up to 1 Terra Ω across 5 voltage ranges up to 5000V (250V, 500V, 1000V, 2500V and 5000V ranges available). An indication of the output voltage and discharge voltage is displayed on the screen.
A filter function is also present to aid in the reduction of noise interference and obtain stable measurements.
The Kyoritsy 3125A also has the capabilities to perform polarization index (PI) and the dielectric absorption ratio (DAR) testing.Both AC and DC voltage can be measured by the Kyoritsu insulation resistance meter, between 30 and 600V.
The Kyoritsu 3125A  features a live voltage warning for safety and auto power off to preserve battery consumption.
Kyoritsu 3125A is supplied with a 3m line probe, 3m earth cord, 3m guard cord, a hook type prod, batteries and a hard carry case.
Kyoritsu 3125A Features
•  Insulation Resistance up to 1TΩ.
•  Short-Circuit Current up to 1.5mA.
•  Wide Test Voltage from 250V to 5000V (250/500/1000/2500/5000V).
•  Diagnosis function of polarization index (PI) and dielectric absorption ratio (DAR).
•  Newly-designed alligator clip.
•  Filter function reduces noise interference for obtaining stable measurement.
•  Large display with bar graph indication and backlight.
•  Live voltage warning.
•  Safety standard IEC 61010-1 CAT IV 300V / CAT III 600V
•  Supplied in hard carry case.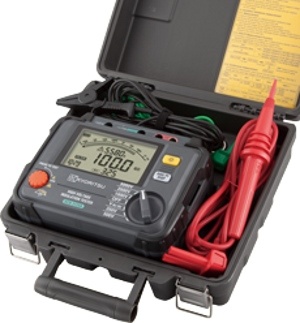 Kyoritsu 3125A High Voltage Insulation Tester Specifications:
Insulation resistance:
RATED VOLTAGE
250V
500V
1000V
2500V
5000V
ACCURACY
0.0 – 100.0MΩ
0.0 – 99.9MΩ
80 – 1000M Ω
0.0 – 99.9MΩ
80 – 999MΩ
0.80 – 2.00G  Ω
 0.0 – 99.9MΩ
80 – 999MΩ
0.80 – 9.99GΩ
8.0 – 100.0GΩ
0.0 – 99.9MΩ
80 – 999MΩ
0.80 – 9.99GΩ
8.0 – 99.9GΩ
80 – 1000GΩ
±5%rdg±3dgt
±5%rdg±3dgt
±5%rdg±3dgt
±5%rdg±3dgt
±5%rdg±3dgt
±20%rdg
(100GΩ or more)
SHORT CIRCUIT CURRENT
1.5mA
OUTPUT VOLTAGE
ACCURACY
±10%
-10 – +20%
0 – +20%
MONITOR
±10%rdg±20V
Voltage measurement
| | |
| --- | --- |
| MEASURING RANGE | AC: 30 – 600V (50/60Hz), DC: ±30 – ±600V |
| ACCURACY | ±2%rdg±3dgt |
General:
APPLICABLE STANDARDS
IEC 61010-1, 61010-2-030 CAT Ⅳ 300V / CAT Ⅲ 600V Pollution degree 2,
IEC 61010-031, IEC 61326-1, 2-2
POWER SOURCE
DC12V : LR14/R14 × 8pcs
DIMENSIONS
177 (L) × 226 (W) × 100 (D) mm
300 (L) × 315 (W) × 125 (D) mm (Hard case)
WEIGHT
3125A: 1.9kg approx. (including batteries)
4kg approx. (including accessories)
INCLUDED ACCESSORIES
7165A (Line probe: 3m), 7264 (Earth cord: 3m), 7265 (Guard cord: 3m),
8019 (Hook type prod), 9180 (3025A Hard case), 9181 (3125A Hard case),
LR14 (Alkaline battery size C) × 8, Instruction manual
OPTIONAL ACCESSORIES
7168A (Line probe with alligator clip: 3m),
7253 (Longer line probe with alligator clip: 15m),
8302 (Adaptor for recorder)